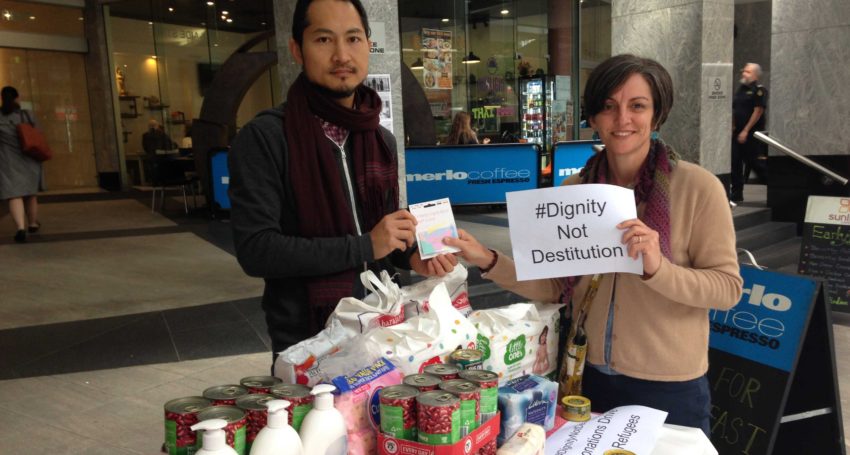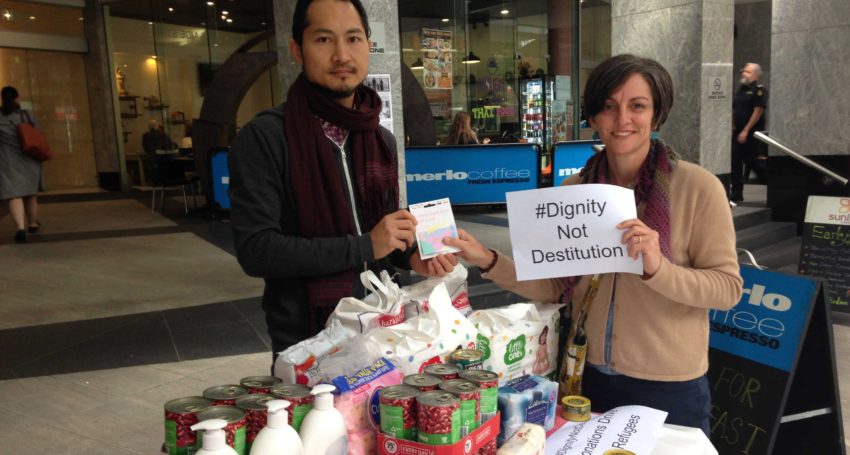 By Peter Branjerdporn.
In 2012, I spent a year on the Thailand-Burma border volunteering as a pharmacist-trainer in a refugee health and community centre. There, I became friends with people seeking safety from one of the world's longest civil wars, and started advocating for stateless Rohingya families in the region via social media.
When I returned home and became increasingly involved in advocating for the rights of people seeking asylum, I joined Love Makes A Way, a movement of Christians seeking compassion for people seeking asylum through prayer and nonviolent actions. At our refugee vigils I met many amazing people, including The Very Rev'd Dr Peter Catt who was Chair of The Australian Churches Refugee Taskforce at the time. We worked and campaigned tirelessly, but found it very difficult to change people's negative perceptions of the rights of people seeking safety. It quickly became clear to me that many Australians' attitude towards refugees had worsened while I was away!
Years of negative messages and effective fear campaigns about people seeking asylum by our elected leaders and parts of the media made it difficult for people, including Christians, to feel compassion towards these fellow humans who are made in God's image. This reality prompted one of Australia's major refugee advocacy organisations to commission research on what messages resonate with Australians, so that we could communicate more effectively – both in advocacy campaigns and also in conversations with friends and family. That organisation subsequently ran workshops for refugee advocates, like me, from different walks of life. At one of these workshops, I learned how reframing our communications and conversations can help us to be more effective in shifting people who are ambivalent or on the fence about refugee needs and rights.
The research and Australia-wide workshops had a huge impact on the effectiveness of how refugee advocacy and service provider organisations around Australia communicated about the rights and needs of refugees and people seeking asylum. This contributed to a shift in how Australians viewed refugees and people seeking asylum, which consequently resulted in a positive outcome for campaigns like #KidsOffNauru, where 170,000 Australians signed a petition to get children evacuated from Nauru to Australia.
My experience advocating for people seeking asylum taught me that you can have a lot of passion and good intention for a group of vulnerable people or for an important cause, but that the right words and approach are needed for people to see your point of view or join the movement for justice.
A friend recently mentioned how a prominent justice advocate made her feel inadequate and guilty about her and her family's lifestyle. I could feel a sense of disempowerment in her voice when she then said that she could never be as useful or dedicated as that advocate. We need to speak up for justice, whether it be for people living with disability, refugees or creation care. However, when we communicate in a way that does not resonate with our audience, we can end up wasting time and energy 'preaching to the choir' and often alienating everyone else, including those we could potentially shift for the common good.
In my role with the Anglican Church Southern Queensland's (ACSQ) Justice Unit, my top priority shifted two years ago from refugee advocacy to climate and creation care. A safe climate is one of the most effective ways to prevent people from being displaced from their homelands due to extreme weather events and the resulting poverty and geo-political conflicts.
The Brisbane Cathedral and the Justice Unit hosted climate conversations for Anglicans and other Christians over the past two years. At these events, we learned a lot about words and phrases that are unhelpful and helpful when speaking about climate and creation care. Along with ACSQ Resource Church specialist Michelle McDonald, we have produced a suggested key-principles-and-tips resource outlining alternative ways to frame climate and creation care conversations and communications for Anglicans. The Very Rev'd Dr Peter Catt, Michelle and I are currently running online workshops for Australasian Christians to explore these alternative principles.
The Jesus whom we follow is himself the Word, who became flesh and lived among us. He learned and understood what it was like to live in the world with all of the pressures and worries of life. He learned the vernacular and effectively shared his message of radical compassion and care for humanity and all of Creation. May we also learn to better reframe our words in the climate and creation care space for the common good.
A free online 'Reframing climate and creation care communications for Christians' workshop, co-hosted by Christ Church Cathedral, Grafton and St John's Cathedral, Brisbane, will be held on Wednesday 29 September between 12 noon and 3 pm. While the free workshop has 'sold out', there are a few spots still open for Grafton Diocese clergy, communications professionals and advocates if they register by 5pm Monday 27 September by emailing contact@doingjustice.org.au. Although the workshop will focus on climate and creation messaging, the principles explored have application across broad advocacy areas.
First published on the anglican focus news site on 28 May 2021 (text amended and updated with September workshop information). 
Advertisement