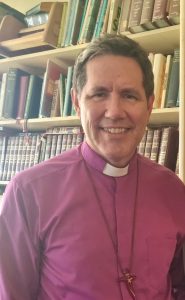 Dr Murray Harvey was Consecrated and Installed as the 12th Bishop of Grafton in Christ Church Cathedral, Grafton, on 29 September 2018.
Murray attended the University of Queensland where he trained as a psychologist, later working in various SE Queensland locations in this capacity before responding to a call to Ordained Ministry, training at St Francis Theological College. He was ordained Deacon in 1991 and Priest in 1992, both at St John's Cathedral, Brisbane. He has a Doctor of Health Science degree from the School of Psychology, Deakin University, Melbourne. His research drew on insights from psychology to evaluate selection processes for the Ordained Ministry in the Anglican Church. He is still involved in research and teaching in this field. Much of his ministry has been served in the United Kingdom, where he served as Vicar of the Glen Group of Parishes in the Diocese of Lincoln. The Glen Group is three rural parishes, Pinchbeck, Surfleet and West Pinchbeck, two of which have churches dating from the 12th Century (St Mary's Pinchbeck and St Laurence's Surfleet), and is served by a large team of Authorised and Licensed Lay ministers. In the Church of England, he also had responsibilities with the wider church, serving as the Bishop of Lincoln's nominee as Bishops' Selection Adviser, which involved participating in the discernment process for those offering to train for the Ordained Ministry in the Church of England. This exposed him to a variety of theological traditions in the various Dioceses and Theological Colleges across England.
On returning to Australia he served as Rector of St Mark's Bonney Avenue, Clayfield and, from 2014, Residentiary Canon of St John's Cathedral, Brisbane. The parish has a flourishing children and families ministry. Developing partnerships with local schools, including St Margaret's Anglican Girls School, Clayfield College and Eagle Junction State School, were also a feature of his ministry.  In Brisbane Murray had several diocesan responsibilities, including serving as an Examining Chaplain, Diocesan Nominator, member of the Professional Standards Board and member of Cathedral Chapter. As part of a team known as the Archbishop's Vocations Task Group, he helped develop processes and events to encourage Anglicans to think about their Christian vocation, including the development of liturgical, video and other resources as well as Social Media campaigns with a vocations theme.
He has extensive Governance experience, serving on the School Council of St Margaret's Anglican Girls School and, before that, on the Boards of Governors of Pinchbeck East Church of England Primary School and St Bartholomew's Church of England Primary School, both in the Diocese of Lincoln.
Pastoral Letter
Discipleship resources for Lambeth Conference Phase Three
Statement from the Bishop concerning the Voice to Parliament
Returning to the Common Cup and Related Matters 19 October 2022
Pastoral Letter regarding the death of Queen Elizabeth 11
Launch of the Diocese of the Southern Cross
Pastoral Letter on Indigenous Issues 4 June 2020
Public Announcement NSW Province 18 March 2020
Synod Reflections 28 June 2019
Christchurch New Zealand 18 March 2019
Sermon Notes
Copies of Dr Harvey's recent sermon notes can be found here:
Sermon for the Installation of Canons Grafton Cathedral 20 September 2023
Sermon for 14th Sunday After Pentecost St Cuthbert's Tweed Heads 10 September 2023
Sermon Preached at Christ Church St Laurence Sydney 3 September 2023
Sermon ABM Martyrs Day Christ Church St Laurence Sydney 2 September 2023
Sermon for 9th Sunday After Pentecost St Mary's Ballina 30 July 2023
Sermon for 8th Sunday After Pentecost St Andrew's Lismore 23 July 2023
Sermon for 7th Sunday After Pentecost St Andrew's Lismore 16 July 2023
Resources
Clergy Conference Presentation 3 February 2023
Reflection Questions about Values
Values Underlying the  Restructure
Reading the Bible as Anglicans October 2019
Article for St James Connections Magazine Aug Sept 2020
Grafton Pioneer Ministry – Dr Wayne Brighton
Grafton Diocese COVID19 resources
Conditions of Entry COVIDSafe Poster
Media Releases
Announcement of a Dean for Grafton Cathedral 21 May 2023
The Visit of the Archbishop of Canterbury to Grafton Diocese 27 September 2022
Broken Head Media Release 16 November 2021
COVID-19 Response re Public Worship 19 March 2020 (updated 25/3/20)
Response regarding Israel Folau Comments 3 May 2019
Religious Freedom and Gender Issues in Anglican Schools 12 November 2018
Church Bells Toll for Children on Nauru 30 October 2018
Bishop urges Federal MP's to remove Asylum Seeker Families from Nauru 19 Oct 2018
North Coast Anglicans Strongly Endorse the Prime Ministers Apology to Victims of Sexual Abuse 17 October 2018
Bishop Murray can be contacted at bishop@graftondiocese.org.au or by phoning 02 6642 4122 (Tuesday to Friday).
Twitter: @MurrayAHarvey