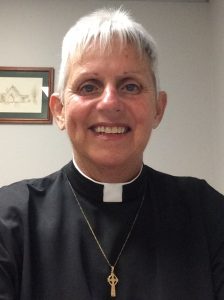 The 11th Bishop of Grafton, The Right Reverend Dr Sarah Macneil BAS (Hons), BTh, PhD, retired by the laying up of her pastoral staff in Christ Church Cathedral Grafton on 3rd March 2018. As a consequence, the Diocese of Grafton is now in a period of discernment for who God is calling to be the 12th Bishop of Grafton.
In this period, The Venerable Gail Hagon (pictured) has assumed the position of Administrator and exercises the role and prerogatives of the Bishop of Grafton until the next Bishop is installed.
Mrs Maree Collett is the Bishop's Personal Assistant and handles the Bishop's correspondence and diary. You can contact Maree on (02) 6642 4122 and pa@graftondiocese.org.au
The process of discernment in the selection of the 12th Bishop of Grafton is led by a Bishop Appointment Board elected by a special meeting of the Synod of the Diocese of Grafton on 4th February 2018.
The members of the Diocese have been encouraged to support the discernment process through their prayers and the following prayers have been suggested for this purpose.
A Prayer at the time of choosing a Bishop
Eternal God, shepherd and guide, in your mercy give your Church in this diocese a shepherd after your own heart who will walk in your ways, and with loving care watch over your people.  Give us a leader of vision and a teacher of your truth.  So may your Church be built up and your name glorified; through Jesus Christ our Lord. Amen
A Prayer for the next Bishop of Grafton
Almighty God, by your Son Jesus Christ you gave many excellent gifts to your apostles, and commanded them to feed your flock. Bless the person now called to be the next Bishop of Grafton. So fill them with your truth, and clothe them with holiness, that as they come to be the pastor of this diocese they may diligently preach your word, and rightly teach your people, to the glory of your name, and the benefit of your Church. We ask this through Jesus Christ our Lord, who lives and reigns with you and the Holy Spirit, one God, now and for ever. Amen.
A Prayer for the Bishop Appointment Board
God our Creator, give wisdom and understanding to the members of the Bishop Appointment Board.  Fill them with your Holy Spirit so that they may listen to one another, speak the truth in love, and bear much fruit in the service of your kingdom; through Jesus Christ our Lord. Amen.