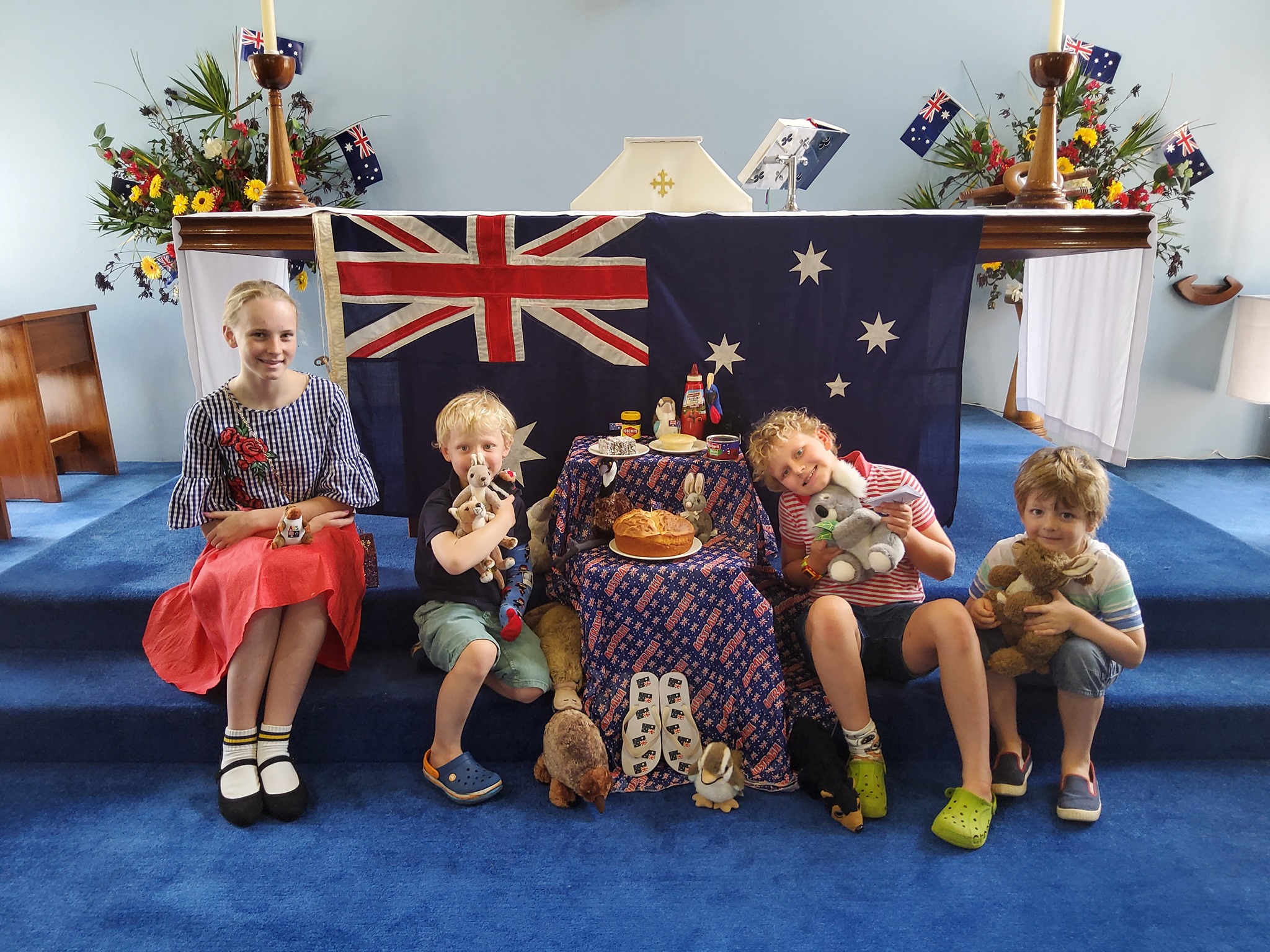 Farewell Father Matthew
Since August 2013, locals have become familiar with the messages on the sign outside All Souls' Anglican Church, which invariably address social just issues such as refugees in detention. That may soon change with the departure of the rector, Fr Matthew Smedley. The messages have been a conversation starter in Bangalow as Fr Matthew has communicated with the board church of the whole community via his billboard. He told The Bangalow Herald that addressing social justice issues has always been important to him.
He says, "I have also ensured that the church is open to all as often as possible and is inclusive of all members of the community. I have really enjoyed being a part of the Bangalow community and with assisting with the beautification of Byron Creek."
A short stroll along the path behind All Souls is evidence of Fr Matthew's handiwork with a lawnmower and garden tools. Fr Matthew is going far afield to the Parish of Mosman in the Diocese of Perth. His last service in Bangalow will be on February 9 at 9am. All Are welcome. *Article originally published in The Bangalow Herald. Article by Murray Hand.
Australia Day Celebrations at Murwillumbah
All Saints Church came together for an Australia Day service last month.
Bishop Murray Visits Calcutta Diocese
On a recent personal holiday to India Bishop Murray and his son Lauchlan were invited to stay with Bishop Paritosh Canning, Bishop of Calcutta, at Bishops House, Kolkata. During their stay, they were shown some of the outreach ministries in the city, including a HIV-AIDS Hospice, TB Clinic and School of Nursing. Before the formation of the Diocese of Australia under Bishop Broughton in the 1800s, Australia was an Archdeaconry within Calcutta Diocese.
Induction of new Director of Mission at Clarence Valley Anglican School
Clarence Valley Anglican School are pleased to welcome the new Director of Mission, Mrs Leanne Harvey, who was commissioned at the same leader's service in week one of the term. We are excited to have Mrs Harvey join us at CVAS knowing that she is called to this ministry in our school.
Coffs Harbour Farewells Rev'd Anne
Last month St John's Coffs Harbour said farewell to Rev'd Anne who leaves us to take up her new post as Priest in charge of The Bellingen. Thanks to Anne and Peter who have been with us for around five years.
The Red Bench Project at Kyogle
The Red Bench Project is an initiative of the Red Rose Foundation. The Red Rose Foundation is a National not for profit charity that works to end domestic violence across communities. They are especially concerned at the high number of domestic violence deaths that occur each year through homicide and suicide. The Red Rose Foundation have launched the Red Bench Project to build a permanent reminder that domestic violence occurs within all of our communities. The presence of a Red Bench in a public location aims to raise public awareness and provide an opportunity for this important issue to remain visible. Each bench will carry a plaque with the wording: "Domestic Violence: "Lets Change The Ending". The first of the red benches was unveiled on 15th May in Cleveland QLD by Redlands Mayor Karen Williams. The Red Rose Foundation are asking for local and state government and other community groups to paint one existing public bench red, and arrange for a metal plaque with the wording Domestic Violence: Lets Change The Ending" to be attached.
St James Anglican Church Kyogle believes this is an important project to support, and we were proud to paint one of our church's existing benches red and attach the plaque before Christmas last year (2019). The bench has generated much discussion about the topic of Domestic Violence and we hope this will be a visible sign to our local community that this is an issue we as a Parish care deeply about.
Praying The Neighbourhood
In Ballina Parish we have started "praying the neighbourhood", also known as Lectio Vicinitas. We walk prayerfully and contemplatively through a selected neighbourhood or shopping precinct, asking the Holy Spirit to help us see the people and places with God's eyes. After 30 minutes we gather to share our experience. We have been surprised and delighted by what God is revealing. It's helping us to see and connect with our towns in a new way.
Vigil For Refugees
On New Year's Eve the Parish of Ballina held a vigil for refugees. We reflected on the Holy Family's flight to Egypt, and on the situation of refugees today. We were encouraged to seek to bring God's love and compassion into each thought and action in this new year.
Life-Long Learnings at Lismore
The parish of Lismore focused on their 2020 year of vision with some lifelong learning/discipleship words? What is your 2020 vision for learning?