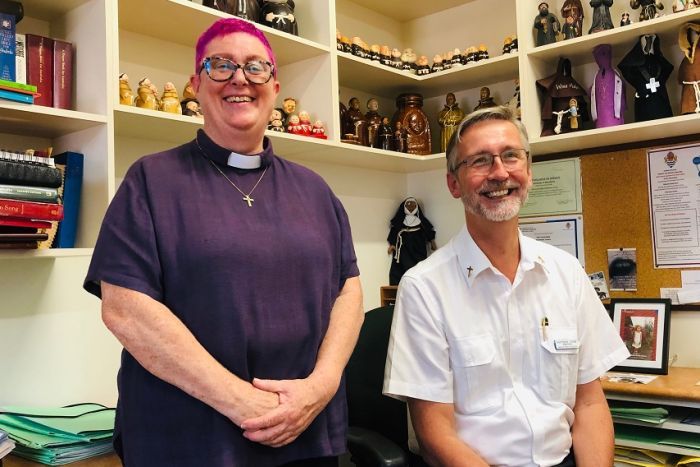 Anglicans embark on outreach
Archdeacon Matthew Jones of the Diocese of Grafton said podcasts, Facebook, and messaging online were being looked at as ways of communicating with their flock. But he said they have a lot of older parishioners who were not computer savvy. "We're looking at phoning or house-visiting, if necessary, as a way of keeping in touch with our elderly worshippers and making sure they're alright," Archdeacon Jones said.
Associate priest Reverend Cathy Ridd of the Anglican Parish of Ballina said she was worried that the homeless will be the biggest victims of COVID-19. "It is a huge concern for all the churches as the homeless aren't always aware of what safety measures they need to take to protect themselves," Reverend Ridd said.
Archdeacon Jones said it was important to have reflective time to quieten the mind from all the chaos. He recommended setting aside the time to do things that give you pleasure — such as a walk, or watching an uplifting, favourite movie. Reverend Ridd, who is also a historian, said these were hard times but we would get through it. "History shows when the Spanish influenza hit many thought it was the end of the world, but we survived. And we can survive the coronavirus too," she said. "We must work together to overcome this crisis."
Source: ABC North Coast
How BDC are supporting local business at this time
The Bishop Druitt College enrolments officer Julie has initiated a really cool and supportive idea at the college. She is asking our community to help her to support local businesses each day for as long as possible. Today we supported @urban_espresso_lounge and they delivered the MOST delicious cakes and goodies and our teachers and non-teaching staff purchased up a storm. No complaints here! If you are a parent of our community that runs a local business that we could support please email enrolments@bdc.nsw.edu.au and Julie will get this happening!
Staying Connected at Maclean Parish
The Maclean Parish has divided up the parish role into phone lists and shared amongst Parish council, LLMs and clergy so that each person rung weekly. They have produced a weekly pew bulletin, with three months of Bible Readings and collects inserted – this week will have palm crosses included. Rev'd Sister Lyn Bullard visits each centre for 2 hours for one-to-one meetings where necessary and live streaming sites have been made available. To continue to reach the parish community they have set up a blog for further communication, as well as updating the church signs outside the church to let everybody in the community know we are praying for them.
World Day of Prayer
Dunoon is a small village in the Byron hinterland, part of the Parish of Lismore. For more than 50 years now, on the first Friday in March, we have celebrated the World Day of Prayer, when the village churches join together and speak as one voice. There used to be four churches in the village but that is now reduced to two. On the evening of March 6 members of St Dymphna's Church (Roman Catholic) and others joined us in St Matthew's to present The World Day of Prayer Service.
This year the service had been prepared by the World Day of Prayer Committee of Zimbabwe. We learned about the plight of women and children in Zimbabwe and we were told some facts and given information about how Christianity has been able to strengthen the resolve of the people there. The theme "Rise, Take your Mat and Walk" will, hopefully, empower some mothers of children with disabilities. It was a very informing and interesting service. The supper afterwards was to our normal high standard and the fellowship as well as the good tucker made for a very interesting conclusion to the evening.
Online Learning at CVAS
Like all schools now, Clarence Valley Anglican School is engaging students through online learning primarily through Google Classroom and Zoom. It has been a steep learning curve for families (including some grandparents), teachers and students who have been thrust into this new learning era. As a school, of course, we have implemented new systems and protocols as seamlessly as possible and have been available to troubleshoot issues with the support of our wonderful staff. Given that at the time of writing there is no foreseeable change to the global circumstances with COVID-19 we are preparing to enter Term 2 with the same new expectations on our staff and families.
We look forward to the day when once again we can have our students altogether but in the meantime, we support the necessity to eradicate this terrible disease by only keeping our school open for essential service families.
CVAS Easter Service
CVAS are preparing for a Zoom Easter Service with their Director of Mission Leanne Harvey. This important event on the Christian calendar, commemorating the death and resurrection of Christ, is being held on Thursday 9 April and we have invited our school community to join in the live feed. 
CVAS Easter Egg Raffle
We had a fantastic response to our Easter Egg Raffle donations and our Director of Mission was on hand to help draw the names of 26 people who won a prize. Thank you to everyone who participated in the raffle.
 First Online Chapel Service
CVAS held their first online junior school chapel service on Friday 3 April. Bishop Murray and Mrs Harvey led the service using Zoom. We believe, even though it's ideal to see students in person, bringing everyone together for the service online was special too and it was terrific to have many students join in.
Song: I've Got to Wash My Hands
CVAS Music teacher, Miss Smith, encouraged us all to wash our hands with this little song. You might recognise the tune!

Kindy Cooking
By Mrs Vidler, Kindergarten Teacher
In Kindy's Zoom session this week not only was my office at home a classroom but a kitchen too! We were learning about procedural texts and what types of things we do follow the structure of a procedure! The first group's session watched Mrs Vidler follow the instructions on how to make blueberry muffins!  At the end of the session, they were ready to put in Mrs Vidler's oven!
Then in our second group's session, we looked at a procedure on how to make a jam sandwich and Mrs Vidler showed the students step by step how to make a delicious jam sandwich! Both groups talked about what we would need to use and do to teach someone how to wash their hands properly which is very important at the moment. Kindergarten students will now complete an activity arranging the steps on how to wash your hands.