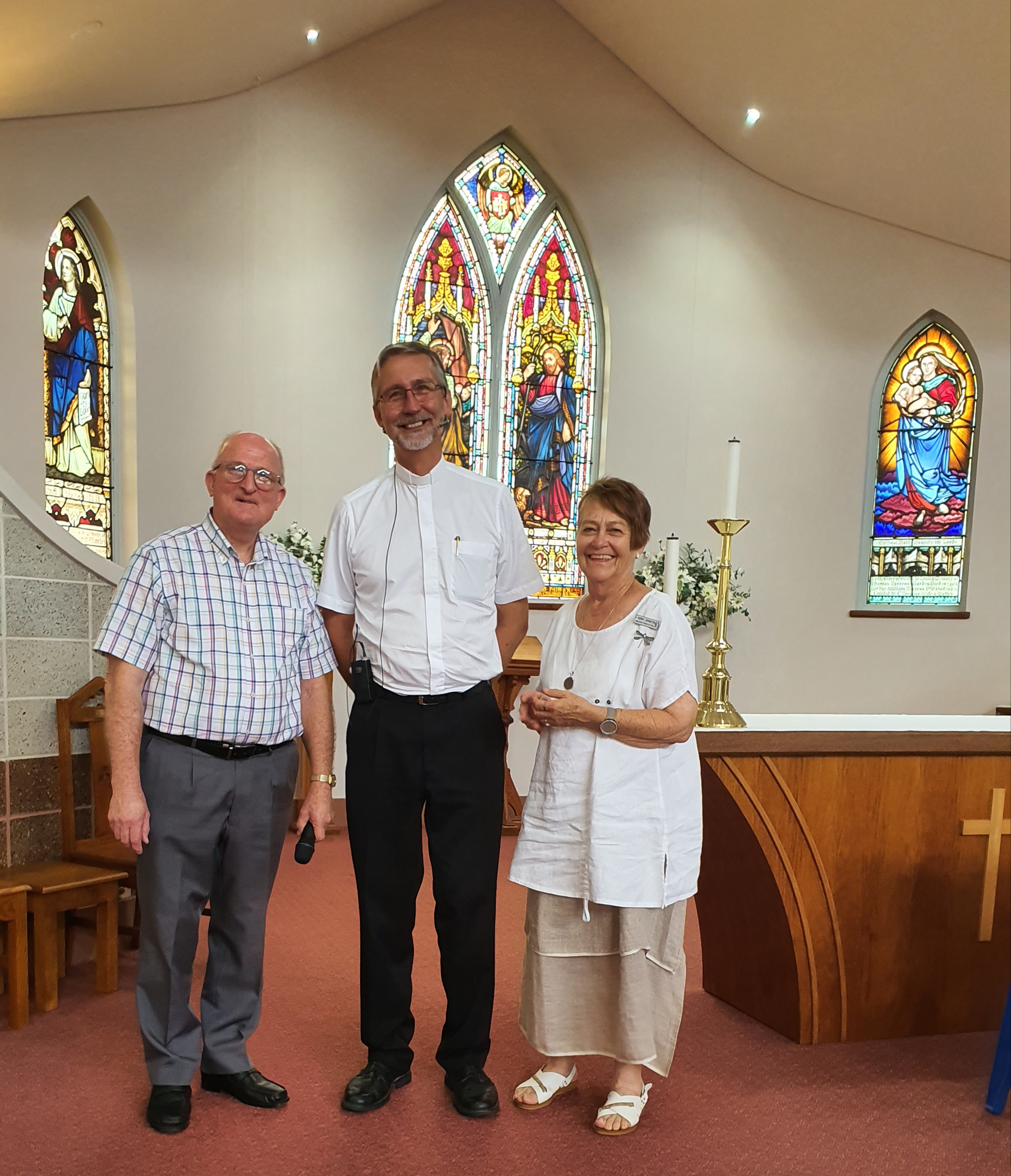 Celebrating 25 Years of Ministry
Archdeacon of the North, The Venerable  Matthew Jones is celebrating 25 years in Ministry. He was very pleased to receive a gift from the Parish of Ballina at the Annual General Meeting recognising this milestone. Churchwarden John Bryen thanked Matthew for listening to and responding to God's call leading to his ordination on 24 February 1995 in Brisbane. Matthew has faithfully served God and the Church in the Glasshouse Mountains area, Goondiwindi, Ipswich, Hamburg and Ballina. John also indicated the Parish looks forward to Matthew's continued ministry in Ballina and in the Diocese of Grafton in the years to come.
A Threshold Choir for the Ballina region
Threshold choirs sing gentle songs to people approaching the end of life. Although a choir might be large, only 3 or 4 people will sing at a bedside. It's a very different kind of choir, with the emphasis on singing softly and compassionately. Ballina Parish is partnering with Compassionate Communities Northern NSW to form a threshold choir for our region.  We are thrilled at the number of people – from many parts of our community – who are offering their gift of singing in this very special way. If you think your parish or community might like to explore this further, check it out on www.thresholdchoir.org or contact Rev. Cathy Ridd (revridd@gmail.com).
Ballina Parish Goes Orange!
Ballina & Lennox Head Anglicans are excited to be working with Orange Sky Australia. Orange Sky's slogan is "positively connecting communities", which connects so well with our mission. The Northern Rivers' new Orange Sky van will be based at St Mary's Ballina and will operate around the region, from Byron Bay to Casino. The van is fitted with washing machines, tumble dryers and a shower. People who are doing it tough can use these much-needed facilities, but more importantly, while their clothes are washing they can have a friendly chat with the van's volunteers. Volunteers come from all walks of life. You need to be able to get in and out of a van, and most of all, to enjoy compassionate and meaningful conversation. If you're interested and live in the north of the Diocese, contact Rev Cathy Ridd on 0427836988.
Introducing the Clarence Valley Anglican School 2020 School Leaders
During the first week of term the commissioning of new 2020 student leaders was held at a special service at Christ Church Cathedral, led by Bishop Murray. We congratulate the following students and wish them all the best as they lead and represent our school:
Primary Leaders: Induna Prefect: Oskar Atkinson-Smith, Kallatina Prefect: Georgia Hodges, Phoenix Prefect: Lily Leven, Sovereign Perfect : Grace Kahle, Primary Boy Senior Prefect: Owen McAndrew, Primary Girl Senior Prefect: Lanai Parry.
Senior Leaders: Induna Captain: Kiara Clark, Kallatina Captain: Joshua Pattison, Phoenix Captain: Jessica McGrath, Sovereign Captain: Zack Cahill, School Sacristan: Faith Sullivan, School Vice-Captain: Dylan Freeman, School Captain: Eden Annesley.
Induction Of The New Clarence Valley Anglican School Director of Mission
We are pleased to welcome the new Director of Mission, Mrs Leanne Harvey, who was commissioned at the same leader's service in week one of the term. We are excited to have Mrs Harvey join us at CVAS knowing that she is called to this ministry in our school.
Leanne is an experienced educator with extensive experience in Anglican Schools in Australia and the UK. In the UK she gained a postgraduate qualification in Church School Studies from University College Lincoln and in addition to her teaching responsibilities, oversaw the Religious Education program at the Church of England school at which she taught in Lincolnshire. She has held a variety of other leadership and classroom teaching roles at St Margaret's Anglican Girls School and St Aidan's Anglican Girls School in Brisbane and most recently has been a Primary Teacher at Redbank Primary School at Ipswich Qld, with the additional responsibility of mentoring junior teachers and supervising student teachers. She was also involved in assisting with the Chaplaincy program at St Margaret's and St Aidan's. She has a Bachelor of Theology, Diploma of Youth Ministry, Bachelor of Education and a Graduate Diploma of Education.