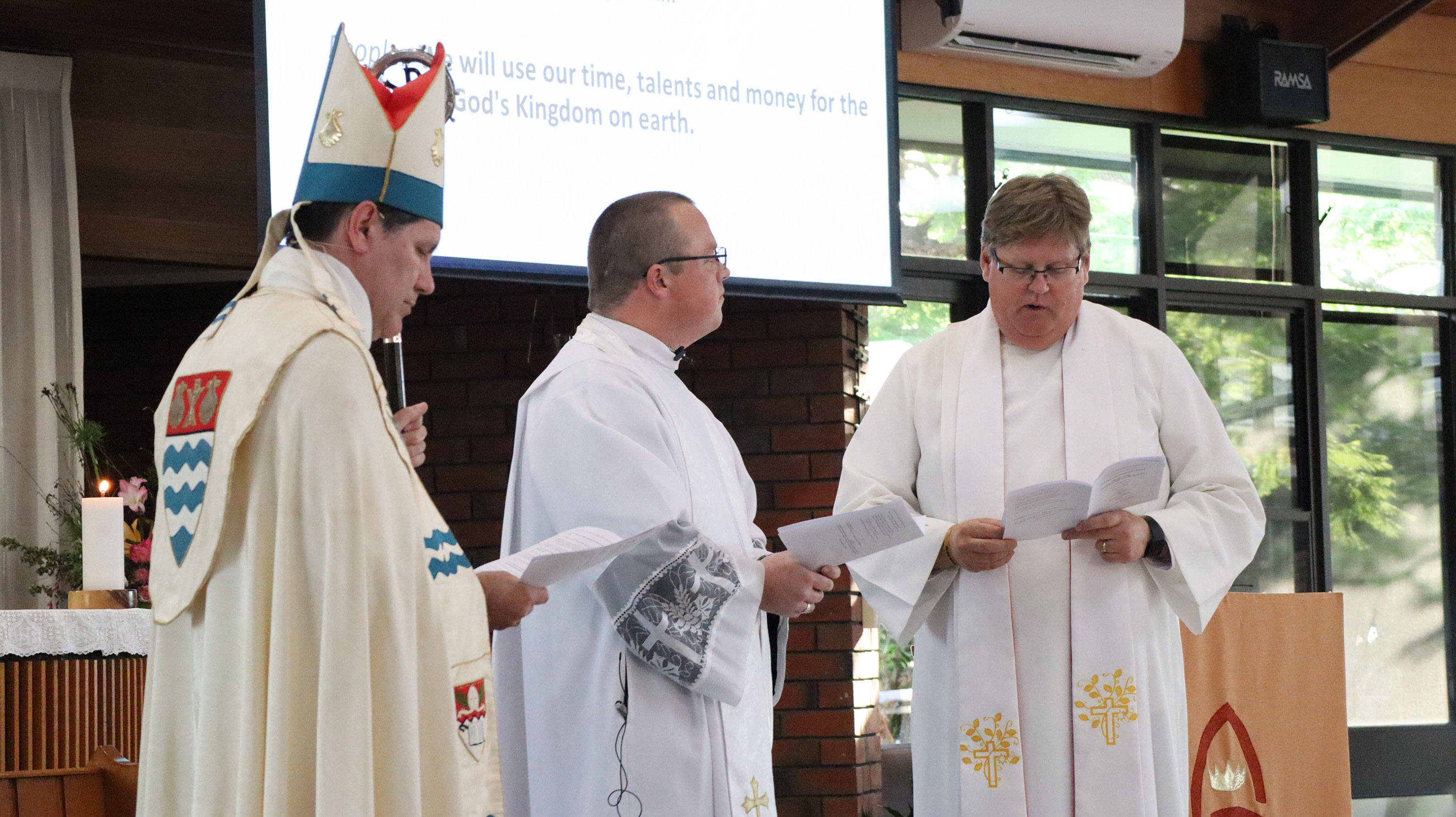 On a hot and humid night in Coffs Harbour on Tuesday 21 January 2020, the Rev'd Daryl McCullough was inducted as the 22nd rector of St John's Parish, Coffs Harbour. His wife Di, children Katie, Will and Tom and his parents-in-law were there to support him, along with 156 parishioners and members of the wider community.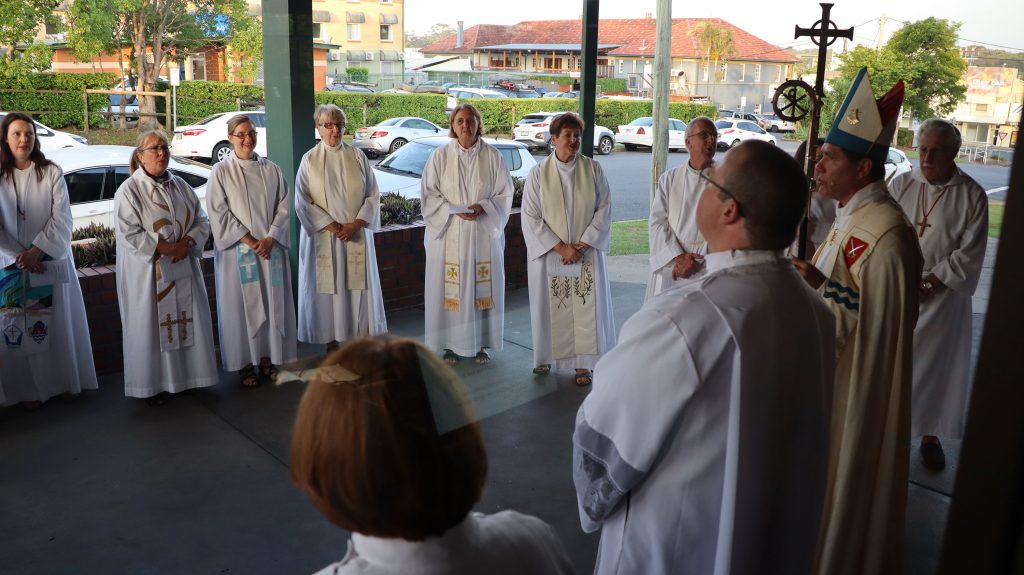 Welcome to Country was given by the Rev'd Lenore Parker and the service continued in a relaxed and friendly style. In his sermon, Archdeacon Stuart Webb quoted words from Oliver – "consider yourself at home, consider yourself part of the family …" referring to the parish family and to the family of clergy in the Grafton Diocese who respect and support each other. 
The gifts of ministry were presented to Fr Daryl by members of St John's congregation.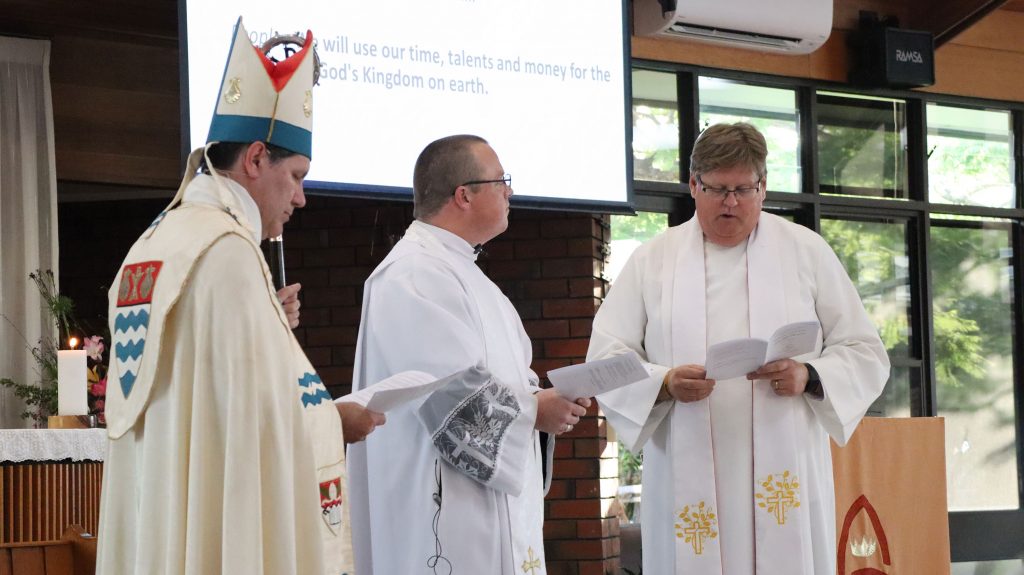 Archdeacon Tiffany Sparks read the licence, after which Bishop Murray commissioned Fr Daryl to ministry in the Coffs Harbour Parish.
Fr Daryl and his family were welcomed by the Rev'd Bruce Hohnberg from Coffs Coast Ministers' Association and the Council of Churches, Warren Grimshaw representing the wider community, Archdeacon Tiffany Sparks from the Grafton Diocese, Denise Knight, Mayor of Coffs Harbour who informed the family that they had moved to the most beautiful city in Australia, and Stephen Campbell, a warden of St John's.
In his response, Fr Daryl thanked everyone for their friendly welcome and said that he looked forward to his role as the new rector and also being involved in growing the community of Christ in Coffs Harbour. His wife Di was presented with flowers and children, Katie, Will and Tom, were given vouchers to go to Dolphin Marine Magic.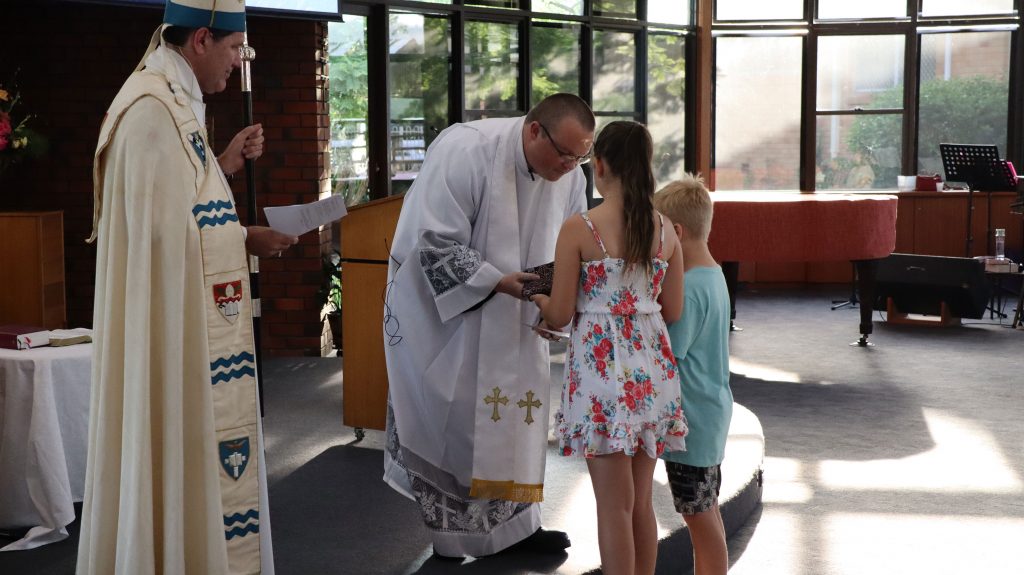 Afterwards supper was served and people stayed for fellowship and the opportunity to talk with Fr Daryl and his family. Katie, Will and Tom will be attending Bishop Druitt College. After the move from West Wyalong, the children are excited about all the shops to explore and the variety of fast food outlets!
Photos and article by David Ford.