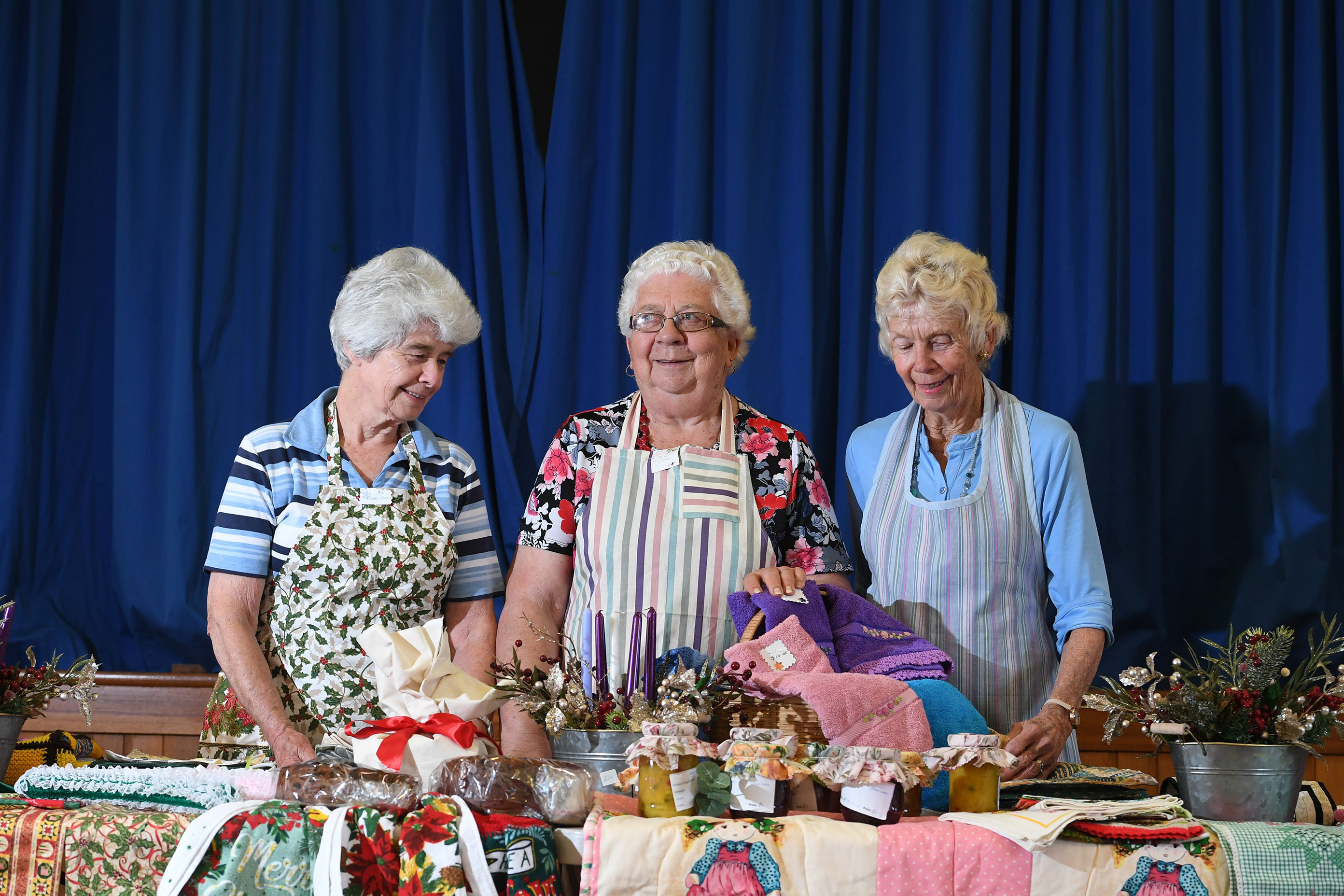 Lismore Anglicans' Pop-up shop: a one-stop festive gift shop
The shop was open from Monday, November 18, 2019 until Friday, December 7, 2019 from 8:30 am – 4:30 pm each weekday. It was located in the Lismore CBD in a vacant shop on the corner of Warina Walk and Molesworth Street. Lismore Anglicans produced many handmade products for their Annual Anglican Christmas shop. Preparation of craftwork started in early February, 2019 and cooking started in October, 2019. The sales exceeded expectation with 210 Christmas Cakes, three dozen  small cakes and 20 puddings, sold, along with fresh daily supplies of slices and cookies plus pickles and jams, scones, as well as, hand-stitched present stocking bags and plants.
Shop organiser, Bev Carroll said the Anglican Church launched the annual Christmas shop 25 years ago. "Last year we sold 100 Christmas cakes and this was in addition to all our handmade items and our Christmas Hamper raffle," she said. Mrs Carroll said the Lismore Anglicans group works year-round to create the handmade gifts, and she said it was always 'wonderful' to see the store open and people enjoying the fruits of their labour which is a ministry outreach with has community involvement. She said all the money raised from the store goes towards the outreach of the Anglican Church.
Christmas Dinner at the Port Anglican Long Table
A fantastic night was had by all at the Port Anglican Christmas Long Table. Great photos!
CVAS 2019 Anglicare Christmas Appeal
The Clarence Valley Anglican School Christmas Service at Christ Church Cathedral in Term 4 2019 was led by the Rev'd Christian Ford. Amongst the Christmas Carols, Bible readings and prayers, Year 7 students performed a Nativity Play. Representatives from Anglicare North Coast, David Roan and Vicki Dransfield, were on hand to accept hamper donations collected by students and families. Over 60 families through Anglicare were blessed this past Christmas from the donations. We acknowledge our Induna House girls at the Clarenza Campus who collected the most hamper items. Well done girls and all students for making someone's Christmas a little brighter.
Christingle Carol Service in Maclean 
On 9 December Maclean Parish held its annual Christingle Carol and lessons service which was a great occasion.  St James church was filled with so much joy as we sang our hearts out, listened to the choirs and orchestra, watched the dancers, and listened to a great Christmas message. The special part of the evening was watching the children walk down the aisle to form the Nativity scene at the front, holding their Christingle oranges.
Life-Sized Christmas at Ballina
At Ballina's Family Christmas Eve service we told the Christmas story with our life-sized nativity and lots of songs.
Christmas Eve at Lismore
Christmas Eve at St Andrew's: carols and advent candles and sermons and prayers and Jed and Roy and candy canes.
Advent at Murwillumbah
Sonny from the Parish of Murwillumbah lit the first candle in the Advent wreath – the light of hope. Elsie is seen here lighting the Peace candle.