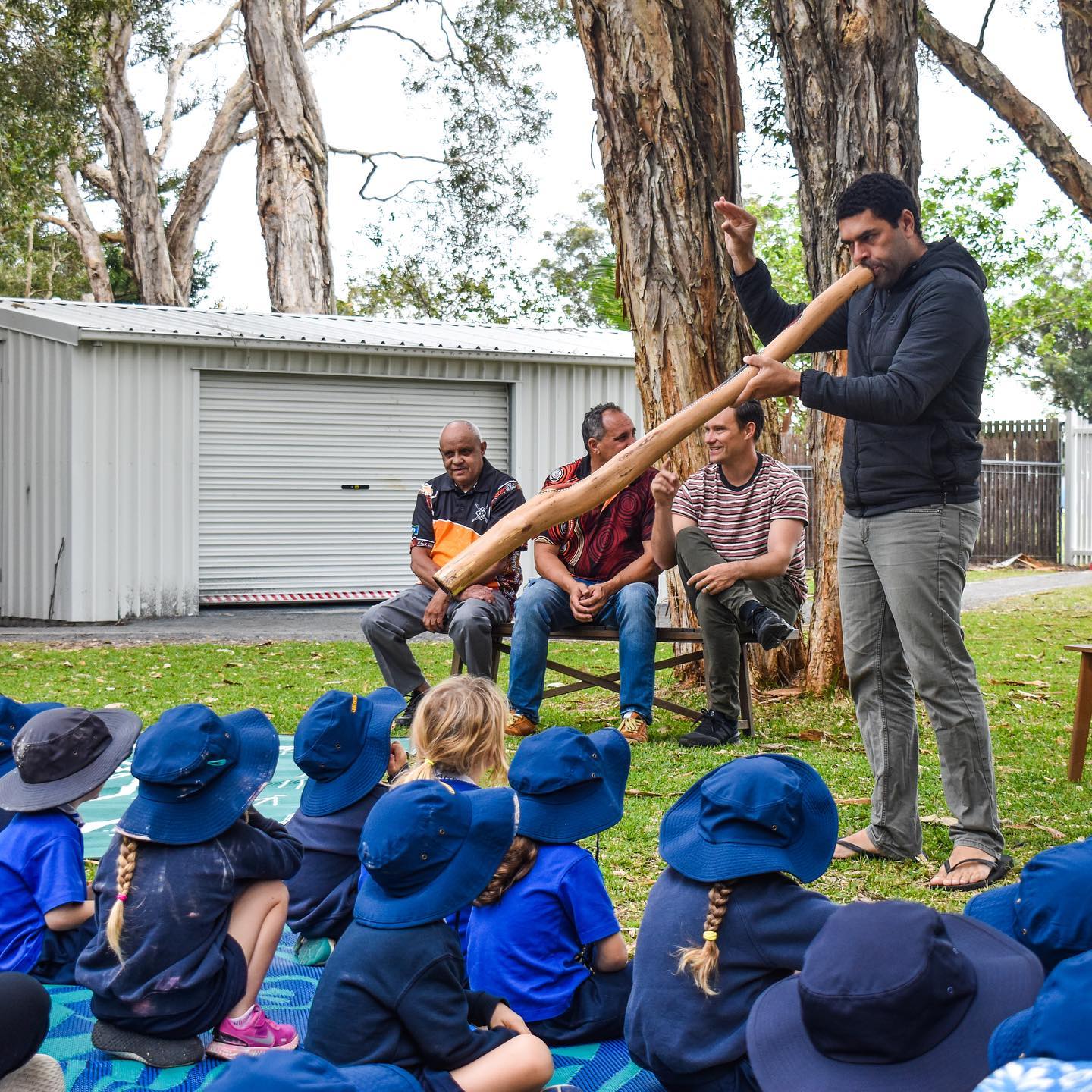 "We are the Elders of tomorrow, hear our voice." The theme for Lindisfarne Anglican Grammar Schools's 2020 National Aboriginal and Torres Strait Islander Children's Day (Jarjum's Day) echoed through our Junior School this month as our littlest students came together to celebrate our First Nations People with some local indigenous community members and Elders from our community. A huge thank you to Uncle Victor Slockee; Tristan Houghton; Gypsy, Rory and Tahni Togo; and Adrian Itong for sharing their culture and stories.
The Parish of Kingscliff held their first session of  Making Marks in the garden of St James' church. It was a relaxing afternoon despite a cheeky wind. They had three visitors and gazed, doodled, had a cuppa and chatted. They had a flying visit from three Yellow Tailed Black Cockatoos.
And so it begins: the next stage of the Cathedral roof project has commenced.
Bishop Murray had a pastoral visit to Wauchope Anglicans this month.
Earlier this month Bishop Murray visited the Parish of Orara Valley. Under their COVID-Safe Plan only 15 people are allowed in the church, so many could not join in, but it was a blessing to be able to worship and share together.
Port Anglican enjoyed the sunshine for their service recently. However, due to the windy weather their equipment didn't last!
A whole school chapel service was held via Zoom today in the grounds of the Clarence Valley Anglican School. A lovely story of the Velveteen Rabbit was the highlight of the service reminding us that when we are truly real and truly loved we aren't afraid to be who we really are. As well on the flip side are we the person who unconditionally loves others for their realness, quirks and all? As Jesus replied to the Pharisees in Matthew 22:37-39 "…love the Lord your God with all your heart and with all your soul and with all your mind. This is the first and greatest commandment. And the second is like it: 'Love your neighbour as yourself.'"
Happy International Dog Day to Amber from Emmanuel Anglican College. Amber has already made such a wonderful addition to EAC and all the students love her.
As part of National Science Week, Kindergarten students at St Columba Anglican School have been exploring the wonderful world of living things. Chris Tejcek, Indigenous Liaison Coordinator, visited to highlight the huge variety of native herbs, fruits, seeds, insects and wildlife that Indigenous Australians have been eating for tens of thousands of years. Of course, it's important to know which flora is edible and which could be toxic! This range of local flora has played an important role as a food and medicine source for the Birpai people.
A little surprise for the Emmanuel Anglican College Year 12 students as they sat their exams last month – a sweet treat from their prayer partners at Ballina and Lennox Head Anglicans. Amber was on-site to greet them as they entered the exam room.
Once a week, Year 9 students taking Child Studies at St Columba Anglican School visit the Columba Cottage Early Learning Centre to develop their skills in positive play and interaction with young children. Gorgeous photos!
The Investigation Centre at Bishop Druitt College is now open. To say the Stage 1 students are enjoying it is an understatement. They are LOVING it! Outdoor and indoor play and investigation in one environment.